Oprah Winfrey is one of just a handful of people in the world who is recognizable by her first name alone. A television superstar, Oscar nominee, and the CEO of the television network OWN, Oprah's knack for business has helped her find massive success both on-screen and as an investor.
The world's only female African American billionaire, she is an entirely self-made businesswoman whose entrepreneurial spirit helped her to navigate early career difficulties and become the host of the most popular daytime television show of all time.
Read on for three pieces of important advice that entrepreneurs can take from Oprah's remarkable journey to success.
1. Don't launch a company unless you can give it your full attention.
For many aspiring entrepreneurs, maintaining their regular full-time job while building the company is the only feasible way to achieve their dreams. However, Oprah has publicly warned against moonlighting at your startup while still working your day job, as it can pose a risk to the ultimate success of your business.
In an interview with Entertainment Weekly, the media mogul expressed regret over her decision to launch her television network OWN before ending her run as the host of her long-running talk show, The Oprah Winfrey Show. In the interview, she alluded to the fact that splitting her time and attention between jobs prevented her from giving her full effort to her new venture.
What aspiring entrepreneurs should take away from this lesson is the importance of devoting themselves fully to their business once it is officially launched. Planning your business while keeping a day job is smart and, for many, necessary, but when the time comes to launch, be prepared to put your day job behind you to devote your full focus to your newest undertaking.
2. Just because you're struggling doesn't mean you're failing.
Though today she is frequently featured on Fortune's Most Powerful Women in Business list, Oprah did not find immediate success early on. After working hard to earn her way into a position as a daytime co-anchor for WJZ-TV in Baltimore, Maryland, she was fired and told that she was "unfit for television news." Even after she had found massive success with The Oprah Winfrey Show, she continued to take entrepreneurial risks and navigate disappointments, including the failure of the 1998 film Beloved, in which she held the starring role.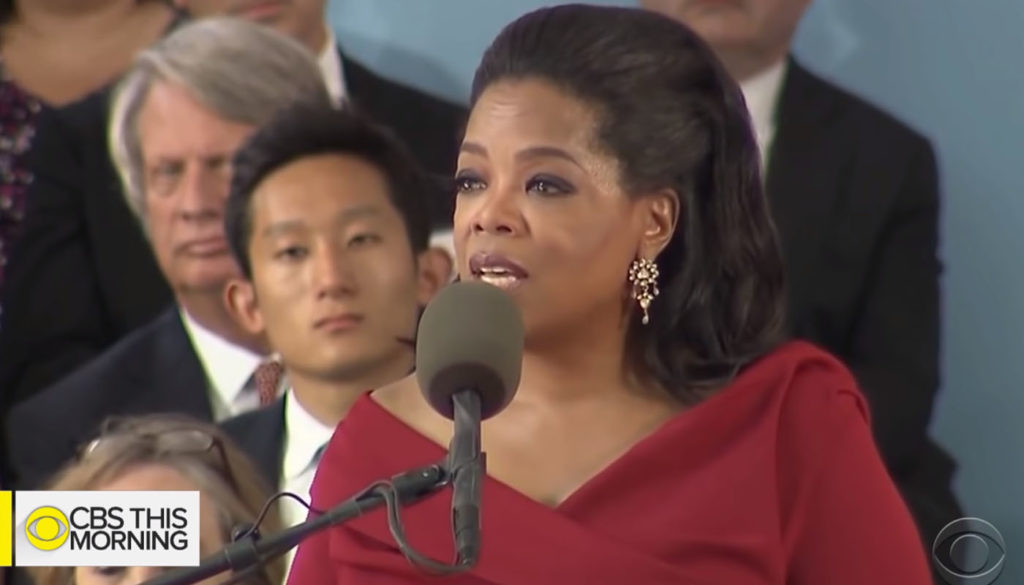 In spite of these setbacks, Oprah's focus on her vision for herself and her career (along with steadfast confidence and an unfaltering willingness to put in the necessary hard work) has allowed her to move past her struggles to continue finding new successes. Oprah has previously told fans that she sees failure as "another steppingstone to greatness," and this idea is a critical lesson for anyone hoping to find success as an entrepreneur.
No matter the industry or size of the business, there is no path to successful entrepreneurship that is free of obstacles. Seeing failure as a learning opportunity and a new starting point for growth is the only way to keep moving forward when your plans don't pan out the way you hope.
3. The most successful companies truly mean something to the people who start them.
A clever business idea may get you started, but it is never going to fulfill you in a way that keeps you going unless the company and its work are meaningful to you. In short, lucrative entrepreneurial success is all about passion.
Oprah is one of the most notable examples of what happens when a person devotes themselves to the growth of something that they are passionate about. She changed television forever by establishing a consistent, global brand that was in line with what was important to her from a business perspective as well as a personal one. Her talk show saw unprecedented success when she led her show with an honesty that no other host had had the courage to lead with before. She gained the trust of audiences who became loyal fans over her unwillingness to tie herself to endorsements or companies that weren't in line with her own beliefs. She put her focus on working toward massive success but never lost sight of what was important to her in the process—namely education, philanthropy, and human connection.
It is passion that allowed Oprah to do with her business venture what no one else has done before or since. She has said, "If you do work that you love, and the work fulfills you, the rest will come." For entrepreneurs, having passion can bring fulfillment, but it can also be the driving force behind the momentum that will keep founders moving forward. The difference between a successful entrepreneur and an unsuccessful one is often just a variance in momentum, and the only place to find the energy of that magnitude is to pursue work that truly resonates with you.